Below are some pointers based on our classroom experiences:
Helping with student discomfort and "Guidelines for Participation"
It is inevitable that some students will feel uncomfortable about this approach to learning. We have found that, in most circumstances, if we name it and provide some guidelines for participation it allows everyone to contribute to their fullest.
"You are in charge of your body" underpins the experience and should be articulated by the instructor. We strongly encourage every student to invest in the opportunity, but if they choose not to participate for any reason, we ask that they follow these guidelines:
The "Guidelines for Participation"
Keep Breathing
This may seem simple, but for the next hour (or length of workshop) if you notice the amazing dance that is inside your body all of the time, this won't be a waste of your time.
Turn discomfort into inquiry
There is powerful information in the times we choose to say no. You might ask "Who would be surprised that I am not participating? Who would be surprised if I did? What is it about these circumstances that make this difficult for me to participate?" If you fill yourself with questions, it will not be a waste of time, and you just might learn something about yourself.

Keep a pleasant countenance on your face
So others can participate without feeling awkward
Student reflection assignment
Reflection serves to deepen the experience of embodied learning and adds intellectual rigor.  We find it encourages students to take their experiential learning more seriously.
Guided reflection can focus the students' attentions on aspects the instructor finds most important
For a younger group, knowing they will be writing about the experience can help them focus and stay engaged
Examples of Guided Reflection prompts can be downloaded here; an open ended reflection assignment can be as simple as "Write a short paragraph reflecting on your experience in our science choreography session."
Active listening
The teacher should be actively listening
To hear and repeat to the whole class good questions or observations the students make to each other while embodying a process or trying to make a model
To encourage students to find answers to the questions they raise
To ask questions of students that will help lead them to the next step of understanding
Frequent pauses
Include frequent pauses to have one student group comment on another's model or embodiment
This encourages students to think more carefully about the embodiment, and how different representations can have the same meaning.
Observe, verbalize, extend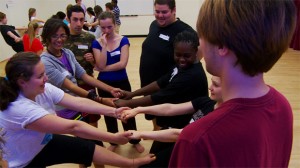 Invite one group to observe and then verbalize what they see in another
Group 1, hold your positions (or, go through your dance)
Group 2, walk around group 1 and observe what they've built.  Notice how they are holding their bodies, where their weight is focused, where they do or do not connect.
Now, tell the group (or, talk to a partner about) what you see.
Group 1, is there anything special or meaningful about your structure that Group 2 has not mentioned?
OK, now trade places.  (or, both groups incorporate another constraint/aspect, and then  group 1 breaks apart and observes and comments on group 2)
Tools for managing energy
Moving in the context of a class can create a lot of energy. Sometimes students can become exuberant and test boundaries. Establishing a clear set of expectations and a vehicle for the energy is imperative. Choreographic tools (such as stillness and rhythm) can help, while imparting choreography skills at the same time. See choreographic tools for managing energy (download / link)
Encouraging model building
Embodied learning lends itself well to a discussion of the role of model building in science.
Is the embodied learning they just did science?
Is a model a failure if it is not a perfect representation?
Can all models be fine-tuned to incorporate new data, or is this property a sign of a robust model?
Can their model be used to make testable predictions?