Welcome to the Teaching Modules, where you can learn more about how to bring science choreography to your classroom. Here you will find content based lesson plans complete with warm-up activities, movement experiences, power point presentations and video clips.  These classroom experiences designed by scientists at Wesleyan University and artists with Liz Lerman Dance Exchange enrich the educational experience and connect to curriculum in Middle School, High School and College.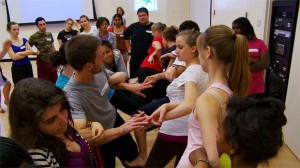 Now:
Coming Soon!
Protein Folding
Evolution and Global Warming
Biological Complexity
A Second Textbook
Many of these teaching modules use selections from the piece Ferocious Beauty: Genome.  The emotions and beauty of the dance inspire student interest in science choreography, and the topics, imagery and symbolism from the artistic work introduce key ideas that we explore in these teaching modules.  We discuss the "second textbook" in the video below.